Jal Mahotsav Madhya Pradesh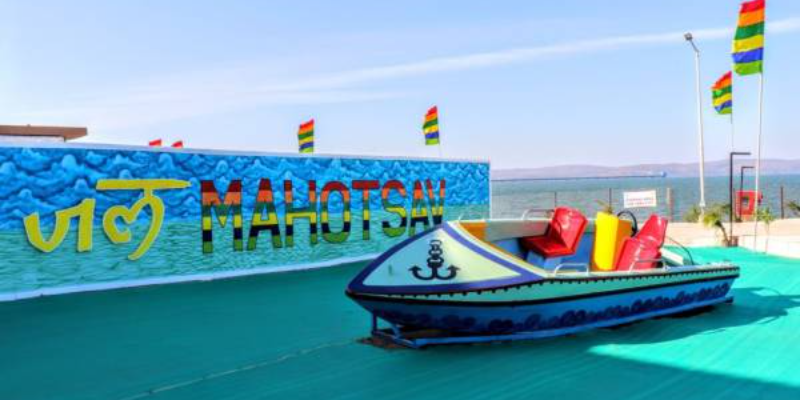 22.11.2019
The Jal Mahotsav was organized by MP Tourism at Dec 2020 to February 2021 at Hanumantiya Tapu, Khandwa, MP. During the festival, many activities are undertaken by the tourism department here, such as kite flying, volleyball, campfire, star gazing, cycling, paramotoring, parasailing, hot air balloon, bird watching, etc.
Hanumantiya Tapu is one of the most popular tourist destinations of Khandwa for its water activities. Recently, the place has been developed as a great sightseeing adventure by the Madhya Pradesh Tourism Development Centre. Being located at a distance of 47 kilometers from the mainland of Khandwa, reaching Hanumantiya Tapu is now more accessible with well-developed transportation routes.
The Jal Mahotsav have many activities as
Land Activities : Yoga Camp, Bullock Cart, Volley Ball, Tug of war, Cycling, Kite flying, Adventure Zone, Camp fir
Water Activities Wind surfing, Parasailing, Water Skiing, Jet Skiing, Banana Ride, Water Zorbing, Motor Boat, Cruise Boat
Air Activities Hot Air Ballooning, Parasailing, Para Motoring, Star Gazing
Island Activities Bird Watching, Treasure Hunt, Trekking, Night Camping
Tourist attraction at Hanumantiya Tapu and many locals of the nearby villages and other places like Nagchun Dam, Ghantaghar, Dada Dhuni Wale Darbar, Gauri Kunja, Tulja Bhavani Mata Temple, Nav Chandni Devi Dham, Indira Sagar Dam, and Sailani Island are some other key attractions of Khandwa.
The Jal Mahotsav manage staty packages like 1 night AC tent package, 2 night AC tent package, 3 nights AC Tent Package, 1 Ngiht Non AC tent Package, 2 Nights Non AC Tent Package, 3 Nights Non AC Tent Package etc.