Statue of Unity, Kevadiya, Narmada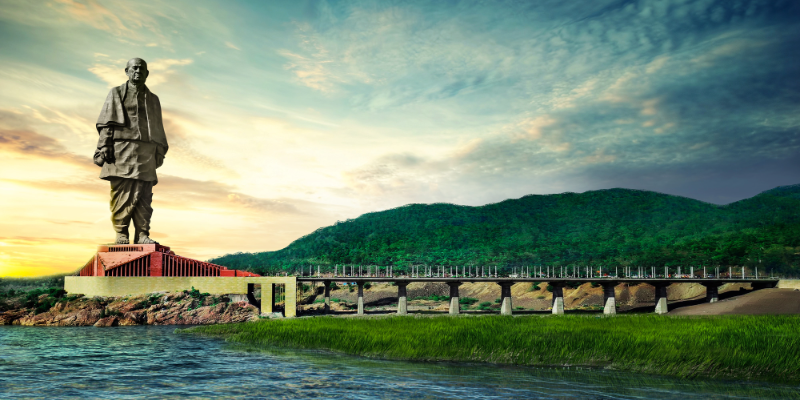 01.01.2013
Statue of Unity is the tallest state in the world with a height of 182 meters. It's a massive statue of Vallabhbhai Patel, the Indian Statesman and freedom fighter. This statue helps you to explore the history identity who contributed for the country. This statue features excellent architectural works and it's surrounded by an exhibition hall, a viewing gallery and a lift inside. It's one of the must visit places in Gujarat and you can explore the real wonders. The nearby rivers and dams make this place an exciting one and you would simply love the atmosphere. It's time to explore nice tent city in Gujarat.
Tourist Attraction are
The Sardar Sarovar dam : Constructed on river Narmada and it's one of the largest structures. It's located in the village of Kevadia and you can explore the unending scenic beauty. It has the highest power generation capabilities with two hydropower generating units. You can explore the flow of water and it brings in the ultimate serenity. It comes up as one of the 30 dams.
Valley of Flower : This nice garden brings in the exotic scenic view and it's spread over 600 acres. There are different species of plants and the beautiful flowers would take you to a different world. Here, you can explore five unique theme parks, which are Garden of Senses, Panchatva Garden, Green Energy and Upcycling Park, Sardar Park, Adventure Park and the Butterfly Garden. Once you start exploring the parks you can feel like you have explored the wonderland in Gujarat.
The Cactus Garden : There are 500 species of cactus plants and you can now explore the nature in a new way. The cactus plants feature different shapes and you can thus explore the true wonders. It's one of the great places to visit when you are in Gujarat. Honourable Prime Minister Narendra Modi also visited the Cactus Garden and tourists feel excited to get familiar with different species of cactus. The Government of Gujarat created this amazing cactus garden, which spreads over 836 square meters.
Butterfly Garden : Explore different species of butterflies and thus you can travel to the real heaven. There are 38 species of butterflies making this garden an amazing one. There are spaces for the butterflies to lay eggs and you can explore nature in a new way. Here, you can find a nice place where you can take some selfies with your family and friends. Its' time to visit this amazing garden and you can spend some nice time with the butterflies.
Children Nutrition Park : Children Nutrition Park is a Unique Theme Park envisioned and inspired by Hon'ble Prime Minister of India, Shri Narendra Modi, which has been developed, as a part of Kevadia Integrated Development. It provides a high quality entertainment and vital knowledge to the children on healthy eating habits and nutritional values based on the theme of "SAHI POSHAN DESH ROSHAN." Entire park is designed and implemented for the benefits of the children and extensive use of state of the art technology is being made, which gives a fascinating experience to the children visiting the park.
Unity Glow Garden :The evenings around the Statue of Unity in Kevadia are illuminated with attractive and vibrant lights now, as the Unity Glow Garden, a unique theme park has been developed with a glimmering array of installations, figures and optical illusions. There are many botanical and various animals and birds and LED fountain inspired with glowing lights on display to welcome all tourists to experience the joy of night tourism.
Arogya Van : Arogya Van (Herbal Garden) is developed near Statue of Unity, which is spread over an area of about 17 acres. Arogya Van exhibits a wide range of medicinal plants and health-related landscapes. The aim of this attraction at kevadia, is to raise awareness about the important role played by plants in the wellness of human beings. Emphasis is also laid on Yoga, Ayurveda and Meditation for being an integral part of a person's well-being.
Ekta Nursery : Tourists can experience making of Bamboo Crafts, Areca Leaf Utensils and Organic Pots live, and can purchase them too, along with Ekta plants. Attraction of Bamboo Craft, Areca Leaf Utensils, Organic Pots, Bonsai-making training, Hydroponics (soil less farming), Role of Honey Bees, Kadaknath etc..