Rann Utsav Tent City 2018-2019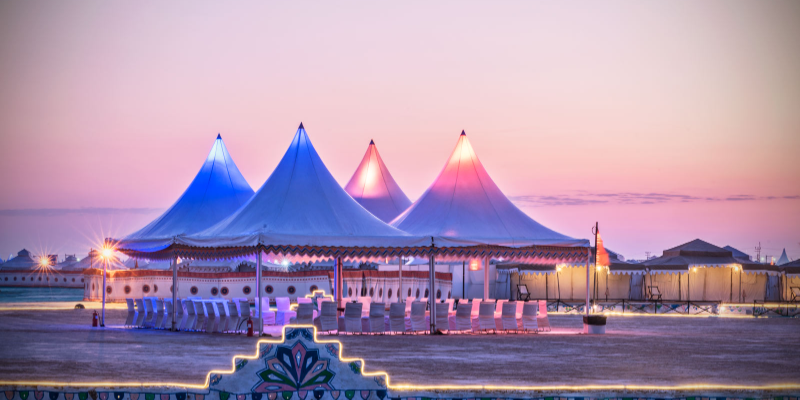 11.09.2018
The Great Rann of Kutch is a salt marsh located in the Thar Desert in the Kutch, Gujarat, India. It is about 7500 sq km in area and is reputed to be one of the largest salt deserts in the world.
Rann Utsav gives visitors not only a chance to experience full moon on salt deserts but also get a taste of the local culture, cuisine and hospitality. Specially built local houses are also used to house tourists to give them a taste of local traditions. Many adventure clubs and travel clubs organize expeditions. A plethora of varied hues, profusion of design, superfluity of culture, cornucopia of music and dance, all together in the arid lands of Kutch creates a mosaic of exquisiteness which reflects the identity and spirit of the region. Kutch, During the full moon night of the winters amid the awe-inspiring and contrasting landscape each year a three day festive extravaganza brimming with hospitality, vigor and traditional flavor of the area is hosted and known as the Kutch or Rannutsav
Starting : Nov 1st 2018 to Feb 20th, 2019, Organized by the Tourism Department of Gujarat, Rann Utsav is a grand winter rendezvous. It takes place when the air is crisp and the moon is at its fullest.
Kutch Rann Utsav Activities
Rock Climbing
Rappelling wall
Pendulum Swing
Zipline Tower
Para Motoring
ATV Riding
Rifle Shooting
Cafeteria
Bungee Run Basketball
Trikke
Star Gazing
Golf cart
Indoor Activities
Pool
Chess
Kids Zone
Archery
Kutch Attraction
Mandvi Local Sightseeing
Bhuj Local Sightseeing
Villages of Kutch
Religiously Places of Kutch
Kutch Archaeological sites
Check our Kutch Rann Ustav Tour Packages, Visit world famous city India, Rann utsav 2018, Rann utsav 2019, Kutch packages. Book your tour, Online rann utsav booking for kutch, rann utsav online booking today with My Best Trip.